By Cobalt Atrow


Do you even call yourself a gamer? See our list of 10 must play titles from one of the greatest consoles of all-time. We bet you haven't played them all.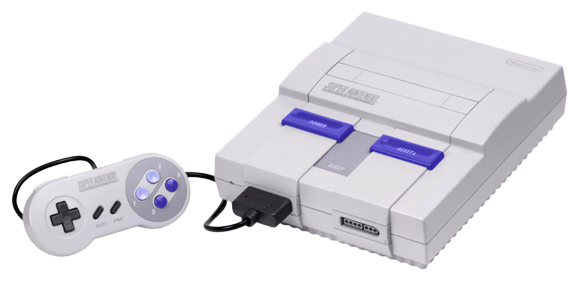 The Super Nintento Entertainment System was released in the early Nineties, coming off the heels of its predecessor and arguably the console that saved the video game industry as a whole the NES. The SNES had to live up to a legacy of classic games beloved by a generation, and it did just that. Here is the list of the Top 10 SNES Games that you HAVE to play, before you die.

NOTE: Play any of these games on your PC using an emulator! New? Read our tutorial!
&raquo Recommended emulator: ZSNES (Windows) | OpenEmu (Mac)


---

10. Donald Duck: Maui Mallard in Cold Shadow



Donald Duck the ninja? In this classic yet underrated SNES game the player takes control of Maui Mallard a.k.a. Cold Shadow. The detective turned ninja has to solve the disappearance of the Shabuhm Shabuhm a mysterious idol. Without giving away spoilers the game sends you on a quest to retrieve the idol, although many obstacles are in your way.

What makes Cold Shadow a must play is the fact that it is a truly unique experience being able to switch between the two characters at any point in the game. The player must decide who is right for what obstacle, making a variety of situations possible. Add some colorful graphics and a killer sound track, and you have a game worth dying for!

Download the ROM here.


---

9. Super Punch Out!!



Where's Rocky when you need him? In Super Punch Out, you take control of amateur fighter Little Mac as he fights his way to the top. Charge up your punches and go for the knockout, our just mash the buttons for those quick jabs. Watch as your opponent's health drains away and you make it to the top of the fighting world.

Super Punch Out manages to stand out as a near perfect port of the classic arcade series. With great visuals that have stood the test of time, the game is a nice way to spend your Saturday afternoon with some buddies. Grab a cold one, hit the start button and don't forget to use the chair!

Download the ROM here.


---

8. Pilotwings



Fly an airplane from the comfort of my living room? Count me in! Pilotwings was a launch title for the SNES. The game allows the player to take control of a wide range of aircraft, earning points and completing challenges along the way.

Pilotwings is a different type of game than anything else on the SNES. Fly for hours through glowing hoops, jump out of your plane, or just crash it. The unique experience never gets old. Pack in attack helicopters, skydiving and hang gliding and you have another game for the bucket list.

Download the ROM here.


---

7. Space Megaforce



Aliens are invading Earth and you are our last hope! Take control of the Aleste fighter ship and destroy the spherical mother ship before all hope is lost. Fight as waves of alien ships try to stop you from saving your puny planet.

Space Megaforce is no average space shooter, and that's why it makes this list. With eight different weapons at your disposal, the aliens better watch their backs as you blow them back where they came from. Pack in fast graphics and Space Megaforce makes for a classic game for the SNES. Packed with multiple unique levels and bonus levels, Space Megeforce will keep you blasting until the alien scum are defeated.

Download the ROM here.


---

6. Super Mario Kart



The game that started it all, Super Mario Kart is the launch title of the hugely successful franchise that spans three generations of consoles. Players' choice from characters from other Nintendo games and race on a variety of tracks. To keep the game interesting, power-ups are scattered around the race track, ranging from speed boosts to banana peels.

Super Mario Kart is a must play because of the legacy it has created. You can really appreciate how revolutionary of a game it was for the 16-bit era. Grab your friends, plop down on the couch and watch the hours tick away. Super Mario Kart is a must download.

Download the ROM here.


---

5. Star Fox



With its large polygon structures and fast graphics, Star Fox looks and feels different. Players take control of a speeding star ship, dodging obstacles and shooting down enemies. What makes Star Fox even more unique is the fact that the player has shields and varying speeds at which the star ship can fly at.

Star Fox was another example of why the SNES was such a revolutionary system. With its 3-D polygon graphics, the game looked like nothing else before it. Add explosions and boss fights that will put even the most experienced gamer on edge, and you have another SNES classic.

Download the ROM here.


---

4. Super Mario World 2: Yoshi's Island



Come on its Yoshi! The green dinosaur is back in the sequel/prequel to Super Mario World. With Mario a baby it is up to Yoshi to save him. Guide Yoshi through each level, without losing the helpless Mario. Keeping the classic platforms that we all know and love, and throw in the extra challenge of not losing baby Mario, Yoshi's Island is a true standout.

With its colorful and vibrant worlds Yoshi's Island is an example of Nintendo at its best. Filled with even more catchy 16-bit tunes, it's hard to put this game down. Although the sound of baby Mario crying whenever you are hit may get old, the game still gets the number four spot. If Nintendo knows how to do anything, its how to make a platformer and they did it just right with Super Mario World 2: Yoshi's Island.

Download the ROM here.


---

3. Super Metroid



Another in-house development, Super Metroid is again Nintendo at its best. Think a space Mario with explosions and lasers! Super Metroid puts the player in control of Samus a futuristic space soldier in an armor suit. While retaining the classic platformer feel, players can also search for secret areas and all the power ups to make Samus unstoppable.

With a unique gameplay and challenges, Super Metroid deserves the number three spot without question. With a unique interface that allows the switching of weapons, to a built in mini-map Samus is truly a must play. Keep on blasting and even do the moonwalk, only in Super Metroid, only on SNES.

Download the ROM here.


---

2. Super Mario World



Who doesn't love a Mario game? Mario is back in action trying to save Princess Peach! With the help of Yoshi and Luigi, Mario must navigate across treacherous platforms and destroy Bowser and his Koopalings. Along with a throng of powerups, Super Mario World keeps it interesting through its multiplayer abilities.

Nothing defines a Nintendo system like its flagship Mario title, and the SNES is no different. Super Mario World represents what the SNES is all about, with its fun yet challenging levels and co-op capabilities. If you could only play one game before you die, Super Mario World would almost have to be it... almost.

Download the ROM here.


---

1. The Legend of Zelda: A Link to the Past



If any game can define a generation, it would have to be Zelda. Link must save Hyrule from the dark powers of an evil wizard who may end life as we know it. Crawl through dungeons solving the mysteries they hold within. Master the bow and sword, and try to defeat the wizard before it's too late.

It's so hard to describe exactly what a Zelda game is. Zelda created its own style of gameplay filled with mystery, story and action. A Link to the Past is widely considered to be one of the best games of all time, and I have to agree. This is the top SNES game you MUST play, before you die.

Download the ROM here.


Download and play these SNES games on your computer!


comments powered by